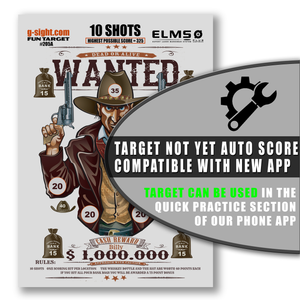 11" x 15.5" Old West Edition Wall Target printed on heavy weight premium matte card stock. NOTE: This Target is not programed inside our new app.
Custom designed for the ELMS  old version phone app, this target features "Billy" the notorious Bank Robber who's escaped the law for 15 years. A perfect score on this target is 325 points. 
RULES: 10 Shots - One scoring hit per location – The whiskey bottle and hat are worth 40 points each. Hitting all four bank bags gets you a 75-point bonus.