Ketanji Brown vs Second Amendment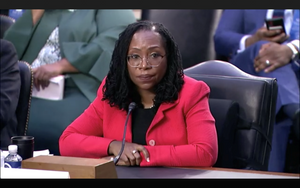 Joe Biden's nomination of Judge Ketanji Brown Jackson to the U.S. Supreme Court drew near euphoric praise from the gun prohibition lobby, which hailed the choice as a positive step toward "gun safety."

Why, is she a certified firearms instructor? A Gunsite graduate, perhaps? No, she's a liberal jurist with some decent credentials; an articulate lady who has worked hard and achieved significant goals. However, the speed with which anti-gunners began lobbying for her confirmation set off warning flares across the landscape.

Everytown for Gun Safety and its subsidiary groups, Moms Demand Action, and Students Demand Action, all supported by anti-gun billionaire and former New York Mayor Michael Bloomberg, want the Senate to "confirm her without delay.

According to some biographical information, Judge Jackson is no amateur in the legal arena. She graduated cum laude with a J.D. degree from Harvard Law School in 1996. She  received an A.B., magna cum laude, in government from Harvard-Radcliffe College in 1992.

She clerked for the man she's been nominated to replace, Associate Justice Stephen Breyer, plus Judge Bruce M. Selya of the First U.S. Court of Appeals, and Judge Patti B. Saris in the U.S. District Court for the District of Massachusetts.

She's been in private practice with Morison & Foerster LLP, and she has also served as an assistant federal public defender in the District of Columbia, where she now serves on the D.C. Court of Appeals, considered by many to be the next best thing to the Supreme Court.

Judge Jackson will likely face some tough grilling by Republicans on the Senate Judiciary Committee, including questions about her personal philosophy regarding the Second Amendment.

It is no small concern, because right to keep and bear arms questions just might be the acid test. Anti-gun-rights groups despise the fact that the current high court makeup has a majority of justices identified as "conservatives," who are also considered "constitutionalists." Translation: They're not activists inventing new constitutional rights, instead concentrating on original intent of the Constitution as a legal document rather than a living document.

Anti-gunners acknowledge Judge Jackson, if she is confirmed later this year, will be unable to influence the outcome of what could be a landmark right-to-bear-arms case, New York State Rifle & Pistol Association v. Bruen. The group, a state affiliate of the Citizens Committee for the Right to Keep and Bear Arms, is suing New York over its restrictive policies about concealed carry permits.

If the high court strikes down New York's permitting process, requiring so-called "good cause," the next step would be for the court to take a case to determine whether semi-automatic modern rifles with full-capacity (20- and 30- round) magazines are protected by the Second Amendment, and if they are, to what degree?

Some veteran gun rights advocates have privately observed that if the Court strikes down the New York scheme and then takes a case to rule AR-15's are protected, it is essentially "game over" though there will be probably years of clean-up cases to be rid of laws in states where anti-gunners stubbornly refuse to let go.

The gun ban lobby may be feeling a bit less boisterous, even with a high court nominee to push, and this is because of a recent Rasmussen survey which had an interesting revelation.

According to Rasmussen—a veteran polling firm not prone to making mistakes—36 percent of American adults "say they or someone in their household owns a gun," and of that group, a significant 61 percent "say they feel safer knowing there's a gun in the house."

While still a minority, pro-Second Amendment sentiment has been building in recent weeks, thanks to the Russian invasion of Ukraine, where the government was handing out guns and ammunition to private citizens so they could defend their country. As that happened, there were crickets from the gun control crowd.
Social media erupted with discussions about the importance of the Second Amendment to this country's security. One of the more widely-circulated memes was a note from Firearms Unknown launched the day after the invasion began: The answer to the question "why do you need an AR 15 and 30 round magazines?" is on every news channel today.

Sure it's symbolism, but symbolic messaging is a powerful political and social tool. And suddenly, courage and patriotism were in vogue again, as Ukrainian President Volodymyr Zelenskyy was photographed literally on the front lines, reportedly turning down an offer to evacuate him, and instead allegedly declaring he didn't need a ride, he needed more ammunition.
Even if it's an urban myth, it's the kind of thing that takes on a life of its own.

What other head of government would be in the trenches with his people? It's the kind of thing that spawns movie scripts.

As for the Rasmussen poll, 45 percent of married Americans live in gun-owning households. Anybody want to bet how many of those married citizens will be voting in November after—by then—21 months of rising gasoline and grocery prices, taxes and crime?