Tips for Traveling with Firearms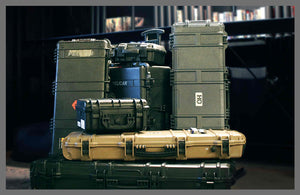 By Andi Dupper, G-Sight writer, Social Media Marketing Mgr.
As we head into summer and travel restrictions are being lifted, lots of folks are returning to the air on vacations. Some of those vacations involve hunting and bringing multiple firearms.
Here are some tips for flying with firearms. 
NUMBER ONE RULE: BEFORE YOU LEAVE TO THE AIRPORT, MAKE SURE ALL OF YOUR FIREARMS ARE UNLOADED.
Ammunition:  The general weight limit for ammo is 11 lbs. 
Gun Case:  You need a lock for every hole in your case.  Sometimes you can get away with missing a lock, but don't take that chance.  Do not use TSA locks on your gun case no matter what the ticket agent says.  Do put a TSA lock on your suitcase, especially if you are carrying ammunition in it.
Also, make sure you have two (YES — 2) sets of keys. 
Packing:  Make a list! Again, make a list.  You won't regret it.  Know the weight you're allowed and buy a luggage scale, which is not expensive.  Overweight fees are expensive, and you don't want to be rummaging through your stuff at the airport when you're already a bit stressed. 
Besides your guns see what else you can squeeze into your gun case: mag pouches, magazines, range finder, gloves, etc. 

REITERATING: WHEN PACKING YOUR FIREARMS AT HOME, MAKE SURE THEY ARE UNLOADED!
Dealing with TSA & Check In:   Most of it comes from the fact that they are not aware of the rules.  SO, YOU BE AWARE!  Print them out.  Remember every airline can have their own rules and there are rules written by the TSA.  Just be ready to adapt.  Every airport can be different, and they can change from day to day.

Approach the ticket agent with a smile.  Be flexible.  Just like you don't start making ready until instructed by the RO, do not do anything until instructed by the ticket agent.  Tell them you need a declaration form because you are traveling with firearms. 
Don't say, "I have a gun" or your day will not go well. 
Ask them how they want you to proceed; ask, "Do you want me to unlock the case?" or something similar.
If you are asked to show that your gun is unloaded.  STOP!  Do not touch your guns!  You will be a signing a document declaring that they are unloaded.  That is all that you need to do.  If they insist ask for a supervisor. 
 AGAIN, NEVER TOUCH YOUR FIREARMS WHILE AT THE AIRPORT!
After you check in let the get agent know that you will be waiting over there (wherever that is).  Plan to sit there for at least 30 minutes, so get the airport early.  You don't want to be paged right before your flight. 
TSA Inspection:  So according to TSA guidelines you are supposed to be allowed to go back and watch the inspection of your case.  This rarely is allowed.  One of the ways that they get you is that you are not allowed to bring other bags back with you.  So, what are you going to do with your carry-on baggage? Ask if you can go back, but realize you will probably be told no.  It's frustrating that they don't follow the rules, but that is a reality. You can take a photo of the ID of the person to whom I give the keys.  They will return the keys to you usually in about 15-30 minutes. 
Navigating the airport:  Don't be insulted by this, but DON'T BE CHEAP! Pay for the cart.  Suitcases, carry on bags, and gun cases get very heavy.  It's worth the ridiculous $5 for the convenience. Perhaps bring a bungee cord to help!
AGAIN: NUMBER ONE THING WHEN PACKING YOUR FIREARMS – MAKE SURE THEY ARE UNLOADED WHILE YOU ARE AT HOME!
Picking Up:  Your gun case is supposed to come to the oversized baggage claim.  You will claim your other luggage and then head to the airline specific office.  But always keep your eyes on the carousel just in case.  Make sure you have your baggage tags & ID.  Sometimes they want one, or both, or maybe none, so be ready. 
Flying with your multigun gear really isn't that difficult. Once you check in you are good to go! Relax and enjoy the flight!