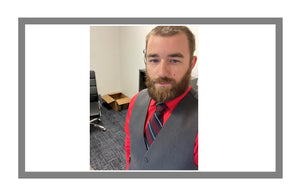 Addison Galaudet is a rising star on our Customer Experience team. Addison joined the G-Sight team in November of 2020. 
Addison has extensive firearms knowledge. He began hunting at an early age and worked as an armed guard for multiple high-profile companies. He continues to expand on his knowledge by taking gun training classes, including a 4-day defensive handgun class.
He is busy raising two boys, Gabriel (5) and Logan (2) with his wife of seven years.
"I love being able to train at home and play shooting games with my wife. We both work all the time, and it can sometimes be hard to find time to do things together.  This allows us to spend time together while both keeping our shooting skills sharp."
A fun fact about Addison. His sister, cousin and two of his good friends all share the same birthday, February 8 of various years, with Addison being the oldest!